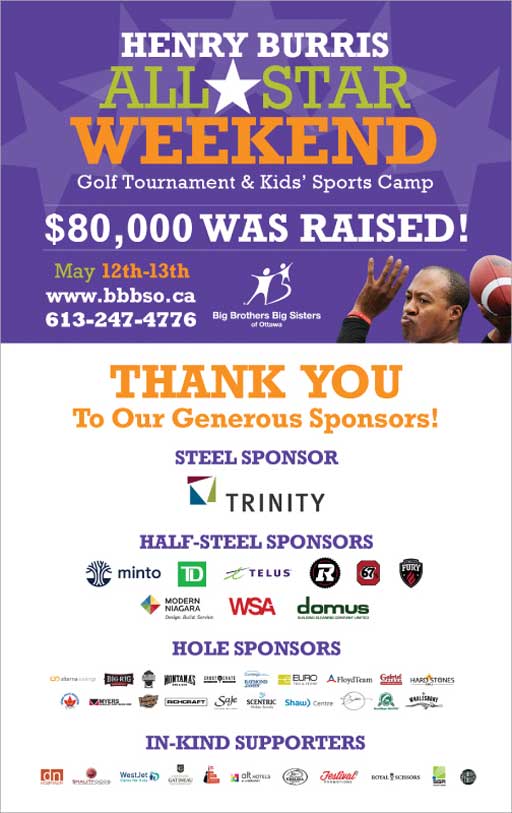 We are pleased to announce that the 2019 Henry Burris All-Star Golf Tournament, held this year at the Gatineau Golf & Country Club on May 13, raised over $80,000!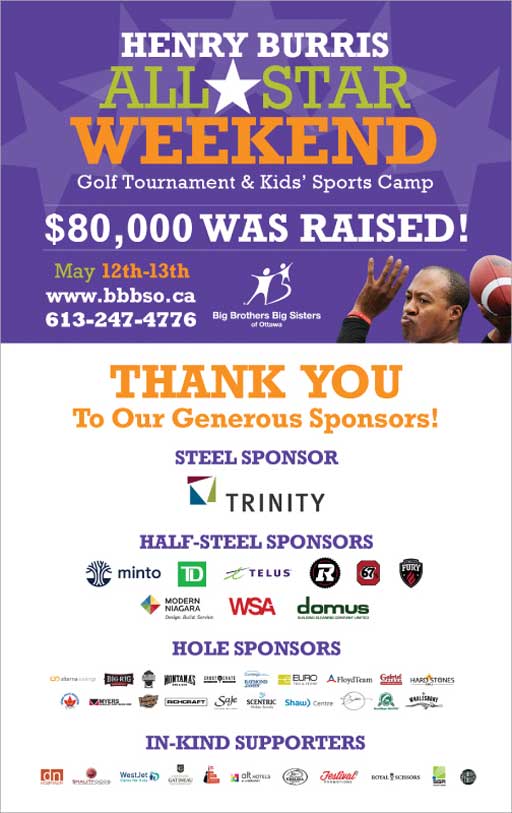 Now a central figure in the world of Big Brothers and Big Sisters Ottawa, our deepest gratitude goes out to Mr. Henry Burris for his dedication and support of this special star-studded annual weekend! Thank you also to our main event sponsors, steel-level sponsor Trinity Development Group, and half-steel sponsors Ottawa Sports and Entertainment Group, TD Bank Group, Minto Properties, TELUS, WSA, Domus Building and Cleaning and Modern Niagara Ottawa – without your significant contributions these events would not be possible!
We call them 'Friends of Henry' but you may know them as All-Stars from football, soccer, ultimate, boxing, hockey, the olympics and more! We are so very grateful to each of the All-Stars who joined our golfers on the course and for dinner this year: Todd Keirstead, Jon Gott, Brendan Gillanders,
Greg Ellingson, JP Bolduc, Damon Allen, William Powell, Nolan MacMillan, Alex Mateas, Lewis Ward, Marc Parenteau, Richard Leone, Val St. Germain, Pat Woodcock, Samuel Fournier, Cody Sorensen, Joey Swarbrick, Eddie Edward, Roseanne Joly, Ronnie James, Dominique Davis, Brittany Gawley, Genevieve Lacasse, Claire Hafner, Sarah Freemark , RJ James, Nicole Burris, Jeremy Hill and David Jans.
Thank you also to the hole sponsors who provided entertainment, food and drinks along the course: The Whalesbone on Elgin with Goodbye Graffiti (Fresh-shucked oysters!!!), Euro Tile & Stone (Because we needed prosecco to go with the oysters of course…), Ottawa REDBLACKS Cheer & Dance Team, Alterna Savings, Gabriel's Pizza, Hard Stones Grill Restaurant, Crust & Crate Fast Fired Pizza Pub, Ottawa Police Association, Calabogie Brewing Co., Montana's BBQ, Saje Wellness, Scentric Scents, Myers Cadillac Chevrolet, Shaw Centre, Raymond James, Pathway Hyundai, and Floyd Team REMAX.
Shout out to in-kind sponsors, Chef Daryl Neamtu of DN Hospitality for serving up the delicious appetizers and amazing desserts at dinner, Improv Embassy for entertaining us at dinner, our emcees: Big Philip and Little Jeremy , and Mr. Lawrence Greenspon for once again being an exceptional auctioneer.
Last but not least, we would like to thank all of the golfers who joined us, everyone at Gatineau Golf & Country Club along with our events team at Oxygen Events and our amazing BBBSO staff for making this event run smoothly.
Our fantastic event photos can be found on our Facebook page here.